De acordo com o StarMedia, NBC teria confirmado a reunião dos atores para uma nova temporada, 10 anos depois do final da série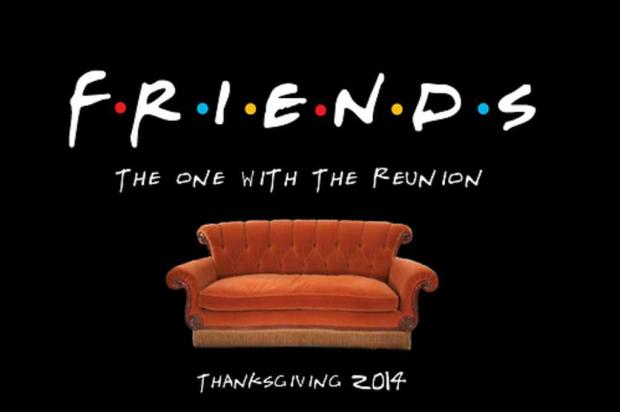 Friends foi exibido de 1994 até 2004Foto: Reprodução / Ver Descrição
Mais um rumor sobre a volta de Friends ganhou a internet na manhã desta terça-feira. De acordo com o site StarMedia, o adorado seriado de Chandler, Monica, Joey, Phoebe, Ross e Rachel teria uma nova temporada em 2014, que mostraria a vida dos personagens 10 anos depois do último episódio, exibido em 2004.
A nota informa que a NBC, rede de televisão que detém os direitos da série, teria confirmado o retorno do programa, mas não foi divulgado nenhum comunicado oficial. Também não há qualquer manifestação dos atores via redes sociais.
Boatos e mais boatos
Imagem anunciava um novo episódio da série em 2014
Foto: Reprodução
Também há a esperança que o sexteto se reúna para um filme, a exemplo do que aconteceu após o término de Sex and the City, Arquivo X e As Panteras. Mas, para desânimo dos fãs, só há negativas dos atores do elenco quanto a um longa. A atriz Jennifer Aniston, intérprete de Rachel e uma das mais bem sucedidas após o fim da série, seria a integrante do grupo que mais impõe condições sobre pagamento e tempo dedicado a gravações.
Enquanto isso, participações especiais
Os personagens de Friends podem nunca retornar à telinha, mas os fãs do seriado já foram presenteados com vários reencontros dos atores. A última novidade é a participação de Matt Le Blanc, que viveu o Joey, como um jogador compulsivo em Web Therapy, série de Lisa Kudrow. É a primeira vez que a intérprete da inesquecível Phoebe atua ao lado de Le Blanc desde o fim de Friends. Courteney Cox também já atuou no programa.
Courteney, aliás, também gravou cenas ao lado de Matthew Perry para o seriado Go On, do qual ele é protagonista. Jennifer Aniston, que viveu Rachel, também participou de Cougar Town, cujo elenco Courteney integra atualmente.